Gotham Gazette: Cuts to child care on the line in budget dance
Cristian Salazar-June 24, 2012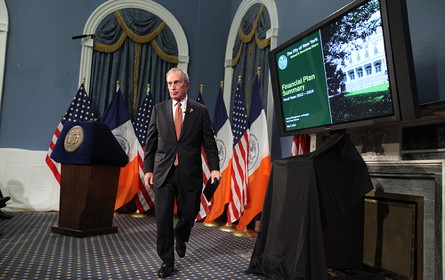 Mayor Michael Bloomberg presents his 2013 executive budget on May 3. Photo by Spencer T. Tucker.
---
NEW YORK – The Campaign for Children, a coalition that came together this year to fight millions in proposed cuts to public funding for child care and after school programs, has been holding budget vigils on the steps of City Hall since the beginning of June.
It is the kind of scene typical of the "budget dance" that goes on this time of year, when the City Council and Mayor Michael Bloomberg's administration negotiate the city's spending priorities for the next fiscal year — and advocates rally to bring pressure on policymakers to spare their programs from being cut.
Read More Here: http://www.gothamgazette.com/index.php/topics/economy/1398-nyc-budget-2013